Major Threats to Information Security on The Digital Fortress
Author - ComstarISA | Sep 12 2018 09:45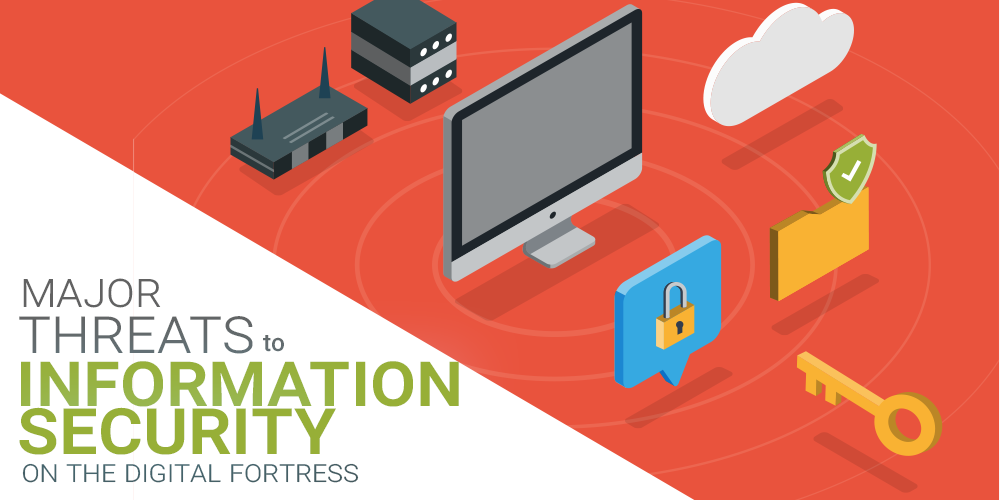 It is an observed fact that it takes all sorts of people to make a world. Likewise, in the field of Information Technology we have perceived that; many great and ardent software engineers, architects and developers are working hard to make this branch of science as the most convenient and popular disciplines around the world. However, certain malicious intruders known as cyber criminals have created several hurdles in the form of cyber threats to evade us from reaching to the peak of success both in the IT field and corporate world.
Moreover, a sophisticated elaboration on the term information security threat involves the illegal activities of an unauthorized access to your system and using the acquired materials for the exploitation of your enterprise along with your personal life. The sensitive data that is most prone to be hacked by cyber attackers include; the private and confidential proposals regarding your company and clients, the systematic database of your agency along with the personal details of your credit card, passwords, and contact lists. All of this mentioned description is the main target of cyber attacks which causes severe damage to your personal as well as professional life.
Furthermore, the categories of threats to information systems are uncountable, however, the most dangerous of all are; virus, worms, spyware, privilege escalation, botnets, spam, adware, logic bomb, and rootkits. All these types of threats to information security are adopted by hackers to gain illicit access to your most private data and details and to use it against you for unsolicited purposes and to defame your integrity in the corporate world. Hence, it is necessary for every entrepreneur to have a comprehensive understanding related to these common security issues:
For instance, privilege escalation is a sort of computer strike that contains bugs which are responsible to acquire access to certain essential files with such freedom that they can easily surpass the boundaries of safety controls present in your systems. Moreover, spyware enters your systems through the downloading process of various software and programs. You are likely to be attacked by spyware if you have a habit of peer-to-peer file sharing or free downloading. Spyware intends to rob your system off the most private and confidential files and also monitor your internet activity for blackmailing objectives.
Similarly, other fatal data security threats are virus and worm. Most of the virus in your computer is analogous to the human infection that tends to transmit from one corrupted device to another. This is dangerous for your organizations because it can easily replicate itself to cause your system utterly deteriorate. In addition, a worm is also a type of virus, however, it differs from the virus on the basis of duplicating itself to such an extent that your hard disk space will be consumed largely and your network system will collapse by becoming slower and ultimately crashing.
Besides, botnets are sorts of Trojan virus that tend to occupy the IRC networking systems and paves the path for other cyber attacks like spam and adware to steal your files displaying through your internet browsing activities. Apart from this logic bomb is highly specific in causing complete devastation of your information security. They are produced in the form of particular codes attached your downloaded software and then switch on the action of replicating, deleting and degrading your database.
In a nutshell, we conclude that to combat evolving threats of your information system; it is essential for you to install and check security updates in your computer on regular basis. Moreover, to use licensed anti-virus programs is one of the best solutions to eradicate your networks from the possibilities of these cyber attacks.