List of Top Rated Vendors Partner Products by ComstarISA
Author - ComstarISA | May 08 2018 01:00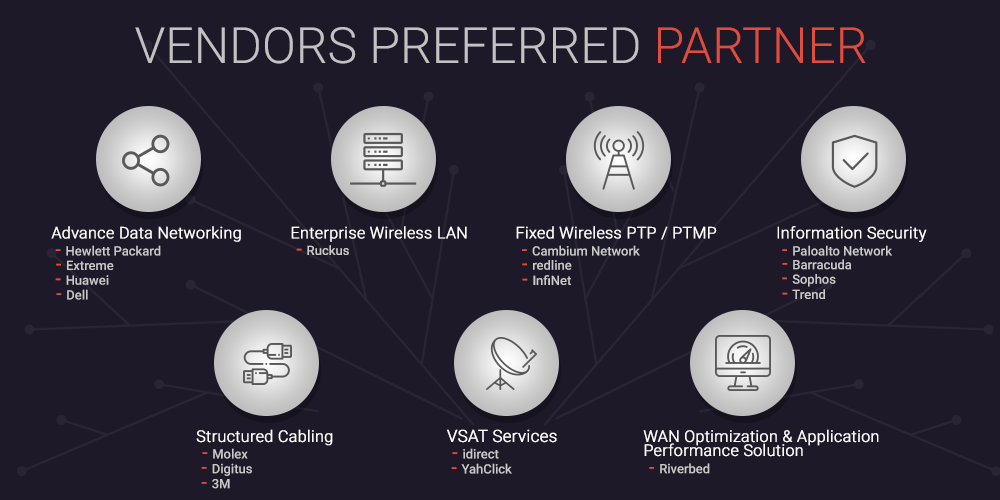 Our transformation was gradual though by the dint of hard work and determination we seek to attain our dreams of providing nothing less than the perfection to our customers. ComstarISA started off with a simple communication service provider with limited access to the business industry. Although now it has revolutionized itself into a successful ICT company that serves to offer its clients with various products and web solutions like Advance Data network, Enterprise Wireless LAN, Structured Cabling, VSAT Services, WLAN optimization, and Information Security.
Our company tends to offer the facility of Advanced Data Networks which assist all kinds of businesses to easily acquire, install and operate voice and data network services and procure an efficient and systematic way of transmission of information. Our network services are utilized by renowned vendors such as Dell, Extreme, Huawei and Hewlett Packard Enterprises. We have created a bond of loyalty and integrity with these as Preferred Partners to supply them best marketing strategy to attract customers to increase the IT infrastructure of their companies.
Moreover, Enterprise Wireless LAN has caused a drastic transfiguration of trading and marketing strategies. Almost every agency is using this technique to ensure the mobility, security and high-speed application performance solutions to build their infrastructures. One such company is Ruckus Wireless which aids your organizations to adopt this system for efficacious indoor and outdoor brands to broadband service providers, entrepreneur and mobile users. Comstar-ISA is proud to be a partner of such agency and assist in developing this technique better than the traditional version. Similarly, the services of Fixed Wireless PTP/PMTP are also provided and enhanced by reliable networks like Cambium Networks, Redline Communications; which helps the customers to avail the benefits of the internet from any part of the world.
Furthermore, we also tend to provide your corporate agencies with Information Security solutions so that your personal and professional databases are far protected from the cybercrimes and threats that can deteriorate the networking systems and collapse your business. Comstar-ISA is an associate of security software companies like Barracuda Networks, Palo Alto Networks, and Sophos. All these security agencies are well equipped to provide your enterprises with updated safety measures.
It is evident that the communication is the basic necessity to any organization for its growth and proficiency, therefore, structured cabling market is well equipped to perform this task in an easy and reliable manner. Digitus, 3M Cables and Molex are such organizations that maintain the task of providing efficient methods of transmission of data from one part to another. They also offer you their assistance in permitting you the access to their consultant who recommends the best option for your business and products.
Likewise, other products like VSAT services and WLAN optimizations are also available by the valuable vendors of Comstar-ISA i.e. YahClick and Riverbed respectively. They are responsible for providing your enterprises with the update technologies and alteration for various business projects, transmission of data and maintaining the security as well as harmony among various devices with internet facility. Thus, we can deduce that opting for Comstar-ISA will be one of the best decisions for your business prosperity, stability and assurance.