Odoo
covers the entire organization
One software to manage your entire business
Odoo's
unique value proposition
Large-scale ERPs like SAP & Oracle cover many functional areas but are expensive and not very flexible.
Single App solutions like sales Force address one functional area very well but organizations end up with a different solution for each functional area.
Odoo provides top-notch feature & usability that scales across all apps, at a fraction of the cost.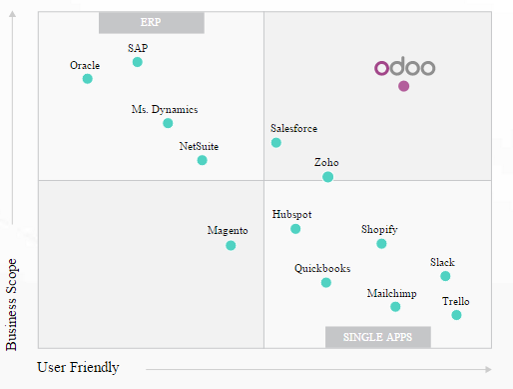 ISA Ltd. (Comstar)
Information Systems Associates Limited (Comstar) is an international Odoo Partner
Authorized to offer Odoo services in Pakistan & USA
Team of dedicated Odoo experts
More than 20 years experience in ICT
Presence in Pakistan (Karachi, Lahore, Islamabad) and USA (New Jersey)

Agile Methodologies

Great Business Analytics

Individually-Tailored Collaboration Approach

End-to-End Sevices
Odoo -
Solving the ERP problem
Organizations would usually spend millions of dollars on an ERP system and then modify their operations to suit the ERP requirements.
Spend a lot of time and effort in developing their own ERP for one or two critical functional areas.
The status quo has always been that you cannot have an enterprise level ERP system that is easy to use, fully customizable and affordable.
Odoo is an ERP system for small, medium and large organizations. it provides the flexibility, scalability, customizability, and reliability that you are looking for at a price you can easily afford.
Odoo's mission is to provide a range of easy to use business applications that form a complete suite of tools to cater to any business need.
You can be a start-up, a small business or a fortune 500 company, Odoo can help you grow.
Odoo -
the only ERP you will ever need
Unified Business Systems- Odoo provide complete ERP solutions for all functional and business areas of an organization, all areas work in a cohesive manner with seamless exchange and update of information.
Modular & Scalable - Odoo is fully scalable and modular, you only use and pay for what is needed with an option to activate more apps as the need arises.
Easy to use - Designed around a simple easy to use interface and workflows that can be learned quickly.
Flexibility - Odoo is extremely flexible and customization and can easily be tuned to work in a way that you are used to.
Odoo-
Cost Effective Solution
Affordability - Odoo can be deployed with nominal one time cost and a low recurring cost. Odoo partner ISA Ltd. (Comstar) takes care of all your needs and can also provide with any customization if required.
Safe Investment - With more than 2 million users and 700+ partners your investment in Odoo is secure. A large network of developers and partners ensures that you get continued support even if your original partner is no longer available.
Cloud or On-Premises - You get to chose whether you want your Odoo ERP hosted in the cloud or in your office or data center.